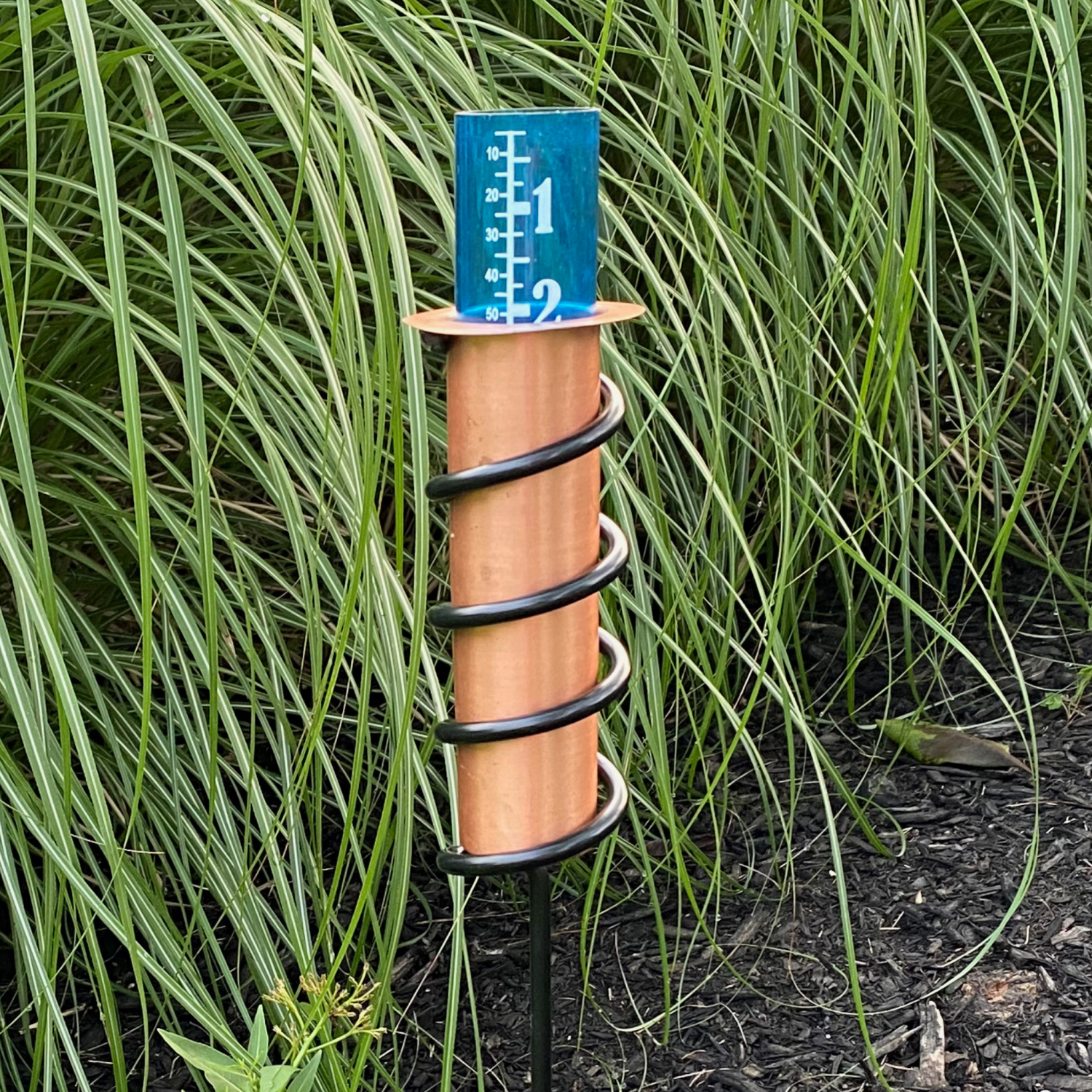 We Make Rain Fun!
A modern twist on a classic device, the World's Coolest Rain Gauge® is the original, award-winning floating rain gauge®. Based on the Archimedean principle of water displacement, the measurement tube rises from the outer collection flute to show water accumulation. It's practical, fun...and very cool!
Our rain gauges are made in the USA with up to 80% domestic components. Assisted by a collection of brilliantly quirky machinery and imaginatively repurposed gizmos, we fabricate, test, pack and ship the World's Coolest Rain Gauge® worldwide.
Shop Now!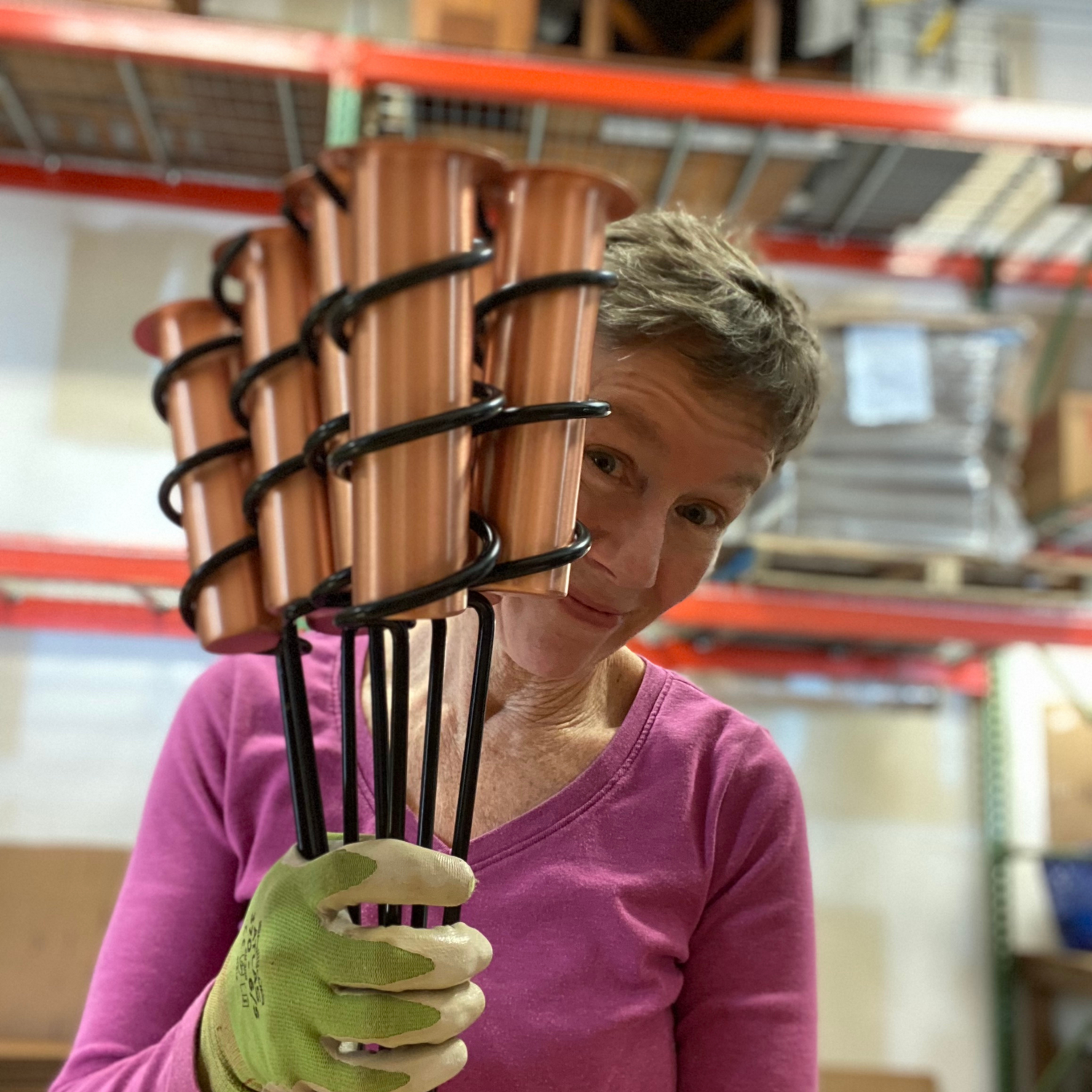 Hey, Thanks!
The World's Coolest Rain Gauge Company® is based in Gardiner NY. We've been making rain gauges in the beautiful Hudson Valley since 1999. Thank you for supporting another small but mighty American business!
Learn About My Company
Let customers speak for us
Lovely but . . .
I bought both the stake rain gauge and the clamp style. These are beautiful and seems to be really well made. I look forward to seeing how they work. But the stake-style gauge appears to have two problems - the 24" pole is way too short, and I am surprised that there is no ' L ' shaped bracket at the bottom of the stake which would make it more stable in the ground.
Superb customer service
Amazing fast and generous customer service. A very fun product. Complete answers when asked questions. A six star company for product and service.
Great gift
We gave one of these special rain gauges to friends, and they love it. Consequently, we just bought two more for Christmas gifts and anticipate more positive feedback.
Beautiful and easy to read
After moving to a brand new house we needed a rain gauge to help us track when we need to water our grass and plants. This is attractive, easy to install, and it's easy to read. We placed it a fair distance from the house, and we can get a good idea of how much rain we got from our breakfast nook.
THE BEST
I have had these rain gauges for yeArs in three different states! They are a major part of my garden life - to water or not to water! I have given them as gifts,too. My only warning is to make sure you don't plant them under trees or branches. The service and delivery times are great.
Great
Perfect replacement part! Works great now
Wonderful product, even better service
After many, many years of use, the measurement tube in our very favorite rain gauge stopped floating. We were thrilled to find we could buy a replacement (so thrilled we bought two!). Unfortunately only one was sent, but as soon as I contacted Moira, she responded and sent the second one immediately, along with a humorous apology. We are back in business now, just need some rain. Highly highly recommend the product and the company.
Works as expected
This is the 3rd one I have ordered. All perform as expected with no issues.
easy to change foam insert
it was easy to change out the foam insert.
Happy
Now just need rain so rain gauges can do the job. I like the larger numbers on the floats as I can read them from the house. Will keep you in mind when tubes need new foam.
Great service!
We needed a repair kit and emailed the site. It was sent out immediately. Fast and easy repair with great service
Excellent product. Prompt delivery - great service. I highly recommend
Working Great
I ordered a replacement tube for my rain gauge. It is working great. Timely delivery.
New Life
The quarter inch markings had faded to 1 inch. New tube has added milliliters. Prompt service.
PERFECT!
Received our rain gauge last week. Installed it on our deck (took just a couple of minutes) and stood back to admire. It truly is beautiful and a real conversation starter!
The materials and workmanship are top notch. And when I reached out to the company with a question, they responded extraordinarily quickly.
HIGHLY RECOMMEND! :)